Bean and salsa chicken wrap is a Mexican-inspired delicacy, bringing robust flavor and delicious heat from the smoked jalapeño peppers. Chicken, by itself, is already known to be a hearty food, most especially if you eat the white meat. This has been long proven to be good for the heart. Aside from the chicken, the salsa is also a very healthy ingredient.
Each of the ingredients used in making salsa contains vitamin C, which boosts the immune system. It also aids in the production of collagen which is necessary in giving structural support for the body tissues. Vitamin C is also known to protect the cells from being damaged and in neutralizing toxic compounds.
Furthermore, eating tomato salsa boosts the amount of Vitamin A in your body. It plays quite an important role in improving your vision. Both the tomatoes and the jalapeños in the salsa provide a generous amount of Vitamin A. The pepper in the salsa does not only make the food taste good but it also makes it healthier. That bit of spice that the pepper adds to the salsa actually produces capsaicin. Capsaicin is very helpful in relieving stomach pain and indigestion. This can also protect one from developing ulcers.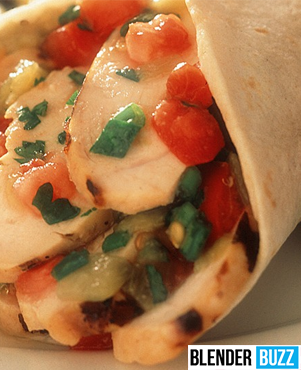 Ingredients
½ cup Progresso Black Bean-Smoked Homemade Chile Dip (recipe given below)
4 Seven or Eight inch tortillas (whole wheat flour)
12 ounces skinless cooked turkey breast or chicken chopped (about 2-1/3 cups)
4 cups torn or shredded romaine/ fresh whole baby spinach leaves
fresh coarsely snipped cilantro – 1 cup
Old El Paso salsa – ¼ cup
Procedure
Black Bean-Smoked Chile Dip
In a small saucepan, heat one tablespoon of the canola oil over medium heat. As the oil gets heated, add ¾ cup of finely chopped onion, one teaspoon of ground cumin and one teaspoon ground coriander. Cover the saucepan and cook it for about ten minutes or until very tender. Make sure to stir occasionally.
Remove the saucepan from the heat. Stir in ¼ cup of snipped fresh cilantro and transfer the onion mixture to a clean blender. Add one 15-ounce can of Progresso black beans. Remember to rinse and the drain the beans first before using. Add ½ cup of water, one teaspoon of finely chopped chipotle chile pepper in adobo sauce, one tablespoon of lime juice and, ⅛ teaspoon of salt.
Cover the blender and start blending until the mixture is nearly smooth. Make sure that the blender you use can mix the ingredients properly.
Serve immediately. If for storage, cover and chill it up to three days.
Bean and Salsa Chicken Wrap
Spread the black bean-smoked chile dip on one side of each tortilla.
Top the tortilla with chicken, romaine, cilantro and tomato salsa. Roll the tortillas up like the contents are wrapped with it. If desired, you can secure the tortillas with toothpicks.