Bacon is probably one of the most common food in the breakfast table of most Americans. And areas around the world are slowly opening themselves with the idea of having bacon as a staple every morning. This can be enjoyed with rice, bread, pancakes and even without anything to pair with it. Bacon is surely very scrumptious and tasty, definitely a kind of food for everybody!
Crabs are one of those sea foods that are loved by many. It is usually served in high-class restaurants because of its gorgeous meat and the taste it adds in every dish. It is also a very flexible meat as it can be used in different recipes. In fact, it will taste all the more wonderful because of its flavor. Aside from its flavor, it can also be a healthier alternative to red meat if consumed in moderation. It is an excellent addition to most dishes as it is low in fats and calories while high in nutrients and proteins. But it is best served when processed using blenders.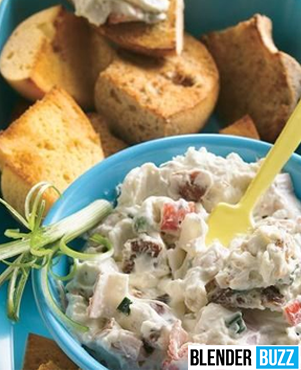 Ingredients
8 Oz Or 1 Package Cream Cheese, Preferably Softened
Prepared Horseradish 2 Teaspoons
Sour Cream ½ Cup
4 Imitation Crabmeat Sticks, Finely Chopped (1 Cup)
Pepper ⅛ Teaspoon
2 Tablespoons Of Green Onions, Sliced
4 Slices Crisply Cooked Bacon And Crumbled
Green Onion Flower, Not Necessary Though
Toasted Bagels, Cut Into Whole Wheat Crackers Or Fourths As Desired
Procedure
Put the beat cream cheese along with the sour cream on a medium sized bowl. Beat these two ingredients with the use of an electric mixer. Make sure to put the mixer only on medium until it gets fluffy and smooth. But for faster results, you can use a blender instead. Blenders will also process the mixture more finely.
Place the remaining ingredients in the same bowl, except the onion flower and the bagels, and stir them in manually or by hand.
Cover the bowl quite tightly and refrigerate for at least one hour in order for the flavors to blend properly.
Transfer the dip in a serving bowl. You can serve it with bagels or bread, whichever you prefer. If there is still left with the dip you made, make sure to cover it and refrigerate immediately to avoid spoiling.
Extra Tips
You can make cuts at every end of a green onion. Put it in a bowl filled with ice cold water until it gets curly.
If you don not have crabmeat sticks, you can make use of a 6 ounce can of crabmeat. Drain it and remove the cartilages and use it as a substitute.