When it comes to blenders, there is no question that you have a ton of options on the market. Simply focusing on brands, we are looking at a very, very long list of possibilities. If you are shopping for your first blender, or if you are finally upgrading the clunker you've had since the Clinton Administration, it can be easy to get overwhelmed by the sheer volume of potential.
Let's make things a little easier for you. Right out of the gate, we want to tell you that when it comes to the best blender on the market, you really can't go wrong with Ninja blenders. Manufactured by the company Euro Pro, Ninja blenders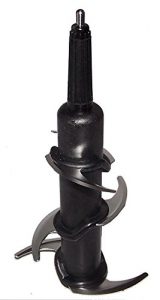 make some pretty bold promises. Starting from the top, they promise to combine innovation, powerful crushing technology, and ease-of-use into a single device. Are their claims legitimate? We believe so.
This is definitely the Arctic Dominator. Ninja® takes great pride in its Ninja® Crushing™ technology that blast through ice as if it were soft candy. Ninja® was developed by Euro-Pro Operating LLC, whose goal is to provide high-quality products that fit the lifestyle of today's consumer. You won't have to go to a five star restaurant; you can make a great meal with that ninja blender helping you create amazing sauces and tasty dips right in the heart of your kitchen.
The Ninja® has a PULSE-control processing and chopping with three separate speeds for mixing, blending, and ice crushing respectfully. It is excellent for making ice cream and also smoothies. The blender is able to go one step beyond and allow the owner to grind seeds and nuts for nut butter, and it is easy to purchase replacement parts. The blades are made of stainless steel and the blender comes with a 2 foot cord that has a box located in the base for storage. The jar, lid, and blade assembly are all dishwasher safe, though it is recommended that the lid and blade assembly be placed on the top rack of dishwasher prior to being cleaned.
In fact, we are so confident in everything Ninja blenders can offer, we have five reasons why your next blender purchase should be a Ninja.
Advantages Of Using Ninja Blenders

Reviews On Some Of The Market's Best Ninja Blenders