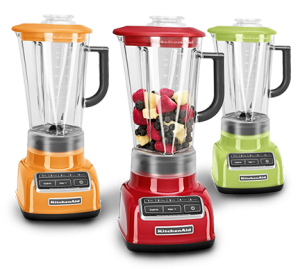 When we designed BlenderCritics, we envisioned the needs of millions who depend on a blender for mincing meat to dicing and chopping ingredients and naturally, felt that the site ought to not just educate readers on various brands but also help make this hackneyed appliance rather exciting. You will find some excellent blender recipes – fruit punches, sauces, dips, mashed servings and more. You will also find top blender brands abused, trashed and trodden over so as to provide honest and reliable blender reviews.
Don't we all love watching cooking shows on the TV? It can be one of those competitions, or just something showing a person how to whip up a fantastic sauce or a dream dessert. If you notice, all of these television cooks use some pretty amazing appliances to create masterpieces. Eventually, we want to be able to help everybody create meals that have a five star quality thanks to the ingredients blended together to bring out an amazing taste. Even if it's just a way to give the kids a delicious frozen drink, using a blender always adds a bit of magic to the kitchen.
It is important to have the right kind of equipment and at an affordable price. Our reviews of all the blenders give you an idea of what to expect when you purchase one. We also present a few inside stories on the manufacturers and little extras that a person can use to make tasty treats and mouthwatering dishes. You will be amazed at the types of blenders available, how affordable some of the commercial machines truly are, and what you can create with the help of a quality blender.
BlenderCritics.com is all about blenders, nothing more and nothing less! As you click the links, you will discover reviews, buyer's guides, great recipes, and a whole lot more information. Whatever you want to know is just a tap of the mouse away!