Considered one of the world's healthiest foods, strawberries are rich in Vitamin C and antioxidants. Eaten fresh or prepared as preserves or fruit juice, made into pies and blended in ice creams, milkshakes, and chocolates, it is consumed in large quantities around the world. In this recipe, blending them into a refreshing smoothie is a good way to drink something first thing in the morning when one is not that hungry.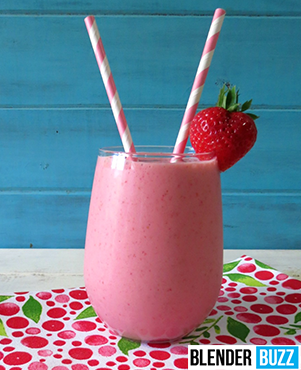 Ingredients
1 container (6 oz) Original 99% Fat Free strawberry (plain), strawberry kiwi or strawberry mango yogurt*
½ cup fresh or frozen strawberries, sliced
½ cup orange juice**
Pineapple chunks, strawberries, kiwi fruit and mango slices, if desired
Ice cubes, if desired
*Plain yogurt, whole or fat-free can be used along with flavored ones such as strawberry blueberry, raspberry apple or even plain mango or peach. You can also try natural or Greek-style yogurt.
**Pineapple juice, four seasons, cranberry juice or any citrus fruit or juice can also be substituted.
Procedure
Place the strawberries, yogurt, and orange juice in a blender.
Cover with a lid and start processing. Set on medium speed for about 2 minutes until smooth.
Pour into serving or cocktail glasses. Garnish with pineapple or a mixture of fruit tidbits such as pineapple, strawberry, kiwi fruit and mango.
Serve immediately with straws.
Other Smoothie Variations:
Tootie Patootie Fruit Smoothie: Place ½ peeled and chopped mango, 1 small banana, 3-5 strawberries, 3 ½ oz natural or Greek-style yogurt, 150 ml fresh milk, and 3-5 ice cubes in a blender. Process until smooth and pour out in tall glasses with straws.
Extra Tips
Let your imagination run wild by preparing a variety of flavored yogurts and fruits on ice. I bet this makes this fruity concoction ready to order in barbeque and pool parties!
Fruit dippers anyone? This recipe can also be used as a fruit dip. Simply blend 2 oz of strawberries, 1 tsp orange juice and 2 tbsp of yogurt, plain or flavored and you're ready to serve. Dunk fruits such as banana chunks, pear, apple and mango slices, halved seedless grapes, kiwi fruit sticks and you now have a refreshing fruit platter!
This smoothie could also be served as a chilled soup. Just pour it into a carved or hollowed-out melon or pineapple bowl, top with a dollop of whipped cream and a dash of cinnamon.