A popover is a hollow, light roll made from an egg batter. Typically, a popover is baked in muffin tins. The name popover basically comes from the fact that the batter itself swells or 'pops' over the top of the muffin tin while baked. These rolls may be served as a sweet roll topped with whipped cream and fruit for breakfast. It can also be served with an afternoon tea or with meat during lunch or dinner.
Popovers are filled with dietary fiber, protein, vitamin A, calcium, and iron, making it ideal for those who are on a diet. The levels of carbohydrates and calories are just enough so no need to worry about your weight.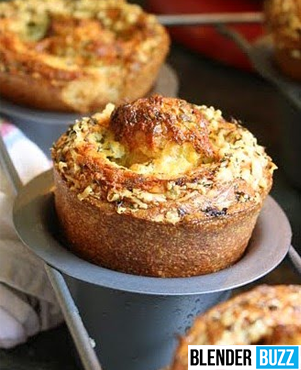 Ingredients
All-Purpose Gold Medal Flour 2 Cups
Fat-Free Or Skimmed Milk 2 Cups
Dried Basil Leaves 1 Teaspoon
Onion Salt ½ Teaspoon
2 Eggs
4 Egg Whites
Procedure
Pre-heat the oven to about 450ºF. Spray cooking spray on twelve custard cups (6-ounce) or two popover pans (6-cup) so the batter will not stick and burn on the tin.
In a large bowl, use an electric mixer on medium and beat eggs until foamy and blend it with milk. But for better results, use a blender instead. Place all the ingredients in the blender. Cover the blender and put it on medium speed for about fifteen seconds until the mixture is smooth. Stop the blender and also scrape the sides if necessary.
Fill the cups or popover pans until they are about ½ full. Put it in the oven and bake for twenty minutes.
Reduce the temperature of the oven, from 450º to 350º. Continue baking for about fifteen to twenty minutes more or as long as the popover's color turns into a deep golden brownish hue.
Immediately remove the popovers from the cups and serve while still hot.
Extra Tips
Popovers are known to be the original quick bread. Prior to the invention of the baking powder n the 1850s, popovers were mostly preferred for its ready to bake nature.
Achieving the perfect popover is easy. Make sure that you do not overbake it and don't keep on peeking in the oven. Opening the oven doors usually would let the cool air in. This will prevent the popovers from baking properly.