Tapenade is a dish that comes from Provence, France consisting of ground or pureed olives (the base ingredient), capers, olive oil, and anchovies. It is generally eaten as an appetizer (hors d'œuvre), best spread on crackers, Melba toasts, bread sticks, bread especially crusty breads (crudités). Surprisingly, it is also used as a stuffing in poultry dishes for main courses and also serves as a condiment.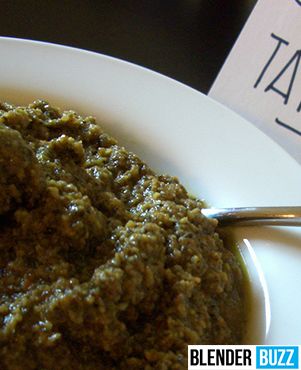 Ingredients
1 ½ cups ripe olives, pitted*
¼ cup walnuts, chopped**
3 tablespoons olive or any vegetable oil
3 tablespoons drained capers
Fresh rosemary leaves about 1 ½ teaspoons
Italian seasoning 1 teaspoon
2 cloves of garlic
Juice of one lemon (optional)
Finely diced red bell pepper***
Assorted crackers, Melba toasts, no-salt breadsticks, pita bread or crudités
* Usually, black olives are used but using the green ones will yield just the same result. Using a mix of green and black olives would be flavorful too.
** Walnuts can be substituted with pine nuts or even cashews for an earthy flavored tapenade.
*** Red bell peppers can be blended in the mixture if desired.
Procedure
Put the olives, walnuts, capers, garlic olive oil and spices in a blender or food processor. (A mortar and pestle may also be used.)
Cover with a lid and start processing, using quick cycling on/off motions till such a time that the mixture becomes slightly coarse.
For a smoother tapenade, continue with the processing and gradually add the desired amount of olive oil. But if a reduced amount of oil is preferred, use approximately 2 ¼ tablespoons instead of 3.
Spoon the mixture into a melon bowl and sprinkle with chopped bell pepper.
Serve with an assortment of crackers, Melba toasts, no-salt breadsticks, pita bread or crudités.
Extra Tips
In preparing tapenades, the most commonly used are black olives (but green olives can also be used) and capers are usually finely crushed, chopped, or blended.
If a chunky or muddy texture is desired, it is best to use a blender.
Tapenades can be flavored differently with other ingredients such as adding anchovies, garlic, herbs, vinegar, lemon juice, or liquors such as brandy.
Adding rosemary and a jalapeno pepper offer a delightful flavor kick.
Mixing the chopped red pepper right into the mixture adds a fresh flavor contrast to the dish.
It can also be served with a little cream cheese with it on a cracker or slice of Italian bread.